I am an Associate Professor in Faculty of Mechanical Engineering, Universiti Teknikal Malaysia Melaka (UTeM), Malaysia. My main taught subject is Mechanical Vibration for undergraduate and Noise, Vibration and Harshness (NVH) for postgraduate. My research areas are in acoustics, vibro-acoustics, and structural vibration.
I am also actively involved with oil and gas ⛽️ industries for consultancy projects especially in vibration. I am certified as the Vibration Analyst Category Level III as well as a certified trainer by Mobius Institute, Australia.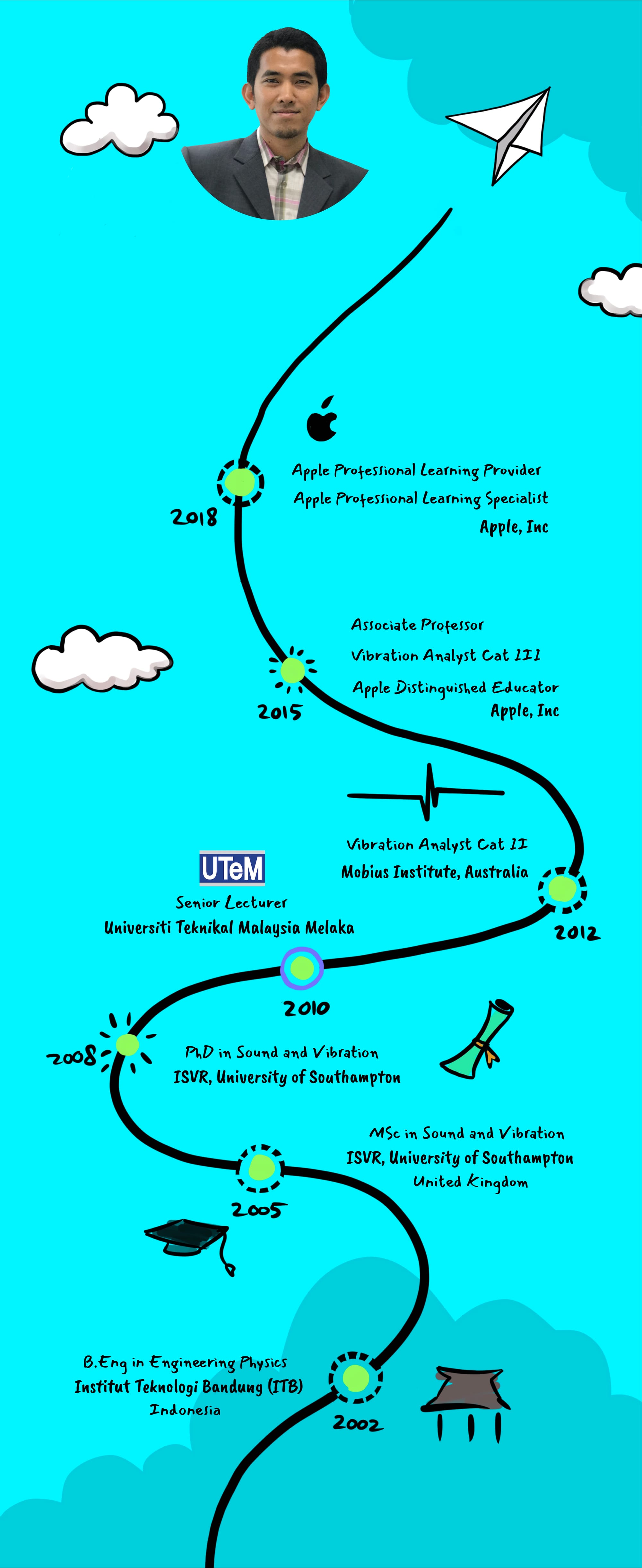 Interacting with students in the classroom has always been my passion. In the early days of my teaching using Power Point slide, I realised I could not reach every student in my class to better grasp the fundamental concepts in the Mechanical Vibration subject. The subject was one among the 'popular' subjects in the faculty to have the greatest number of Grade E's. I then changed the delivery of my teaching to be student-centred, rather than the conventional lecturer-centered. I make the course to be more personalised for students. For this purpose, I use Apple technology (Mac and iPad) 💻 to create my digital contents and publish them in a learning platform where the student can access the contents anywhere and anytime especially using their mobile phones📱. In the classroom, I can focus the activities towards problem solvings and discussions through collaborative learning to sharpen the critical thinking. The learning experience for the students has been transformed to be more enjoyable and meaningful, and Mechanical Vibration subject is no longer listed as the 'killer' engineering subject in the faculty (Read more in my Teaching Portfolio.)
I am now helping schools across Malaysia which use Apple technology to leverage the schools towards the 21st century learning.
I was awarded as the Apple Distinguished Educator (ADE) and certified as Apple Professional Learning Specialist (APLS) by Apple, Inc.
Awards
1. UTeM Academic Awards 2013 - Journal Publications
2. UTeM Academic Awards 2015 - Innovation in E-Learning
3. UTeM Service Excellence Award 2018
4. UTeM Service Excellence Award, For Year 2019
5. UTeM Academic Awards 2019 - Innovation in E-Learning
6. UTeM Service Excellence Award 2020